Different ways to send bereavement flowers across Melbourne
Floral tributes in the way of wreaths and sheaves are the best ways to express your respects & condolences to the family and friends of the deceased. Choosing what to send can be difficult, so to assist our customers we have conveniently categorised our bestselling flowers for each occasion. Once you have decided where you'd like to send your floral tribute, please kindly view our collections in these two categories below:-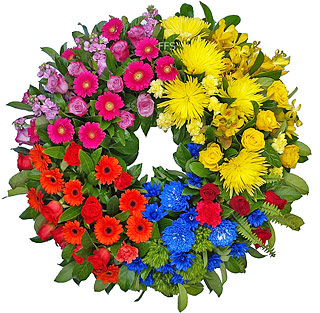 Sending flowers to a funeral home or church in Melbourne
We specialise in all aspects of funeral flowers which means we can contact the funeral homes on your behalf and request service and delivery times. We always double check to ensure the delivery service address and time against the deceased's name is correct. Calls are made to funeral homes across Melbourne and this information is confirmed before we proceed. Once it is confirmed to be correct we will pre-order your flowers and start making arrangements for logistics and any special order requirements - if you have selected a custom design.
Sending sympathy flowers to the home or business in Melbourne
Sympathy flowers are those typically delivered to the home, workplace or any other place other than the church or memorial service. When sending a floral arrangement to the home or business in Melbourne, we recommend selecting something from our sympathy flower range. This collection of floral tributes is suitable to send to the home or work address. They are flower arrangements or bouquets that can be cared for and admired for the time leading up to and after the service.
Sending flowers to the home is a way to show your respects to the family. Flowers convey a very personal message and inspire warm and comforting thoughts. Like a picture can paint a thousand words, flowers have the power to lift the mood and instil memories and beautiful thoughts into family members. Flowers can comfort the family and brighten the mood during a difficult time.
Now with Stand Hire
We are now offering stand hire on our range of wreaths and heart tributes. Our driver will setup the stand and also secure the wreath to the stand. Our driver will arrange for collection of the stand after the service has completed. Please view our funeral wreath catalogue of products for more information.