Έίμαστε Ελληνες καί μπορούμε να σας βοηθείσουμε με λουλούδια για κυδείες. Για να σας εξηπηρετήσουμε αφηστε το τηλεφωνο και το ονομα σας και θα σας πάρουμε πίσω το γρηγορώτερο.
Γράψτε μας εδώ
Ή μπορείτε να ψωνίσετε
εδώ
What to Send to a Greek Funeral
For Greek funerals it is customary to send wreaths, crosses or sprays. Most commonly
wreaths
are ordered for Greek funerals.
We can help assist you with flower displays for Greek churches across Melbourne. We can also write in Greek for those who would like Ribbons with the families name. We offer a large range of wreaths suitable for the passing of Greek ladies and gentlemen.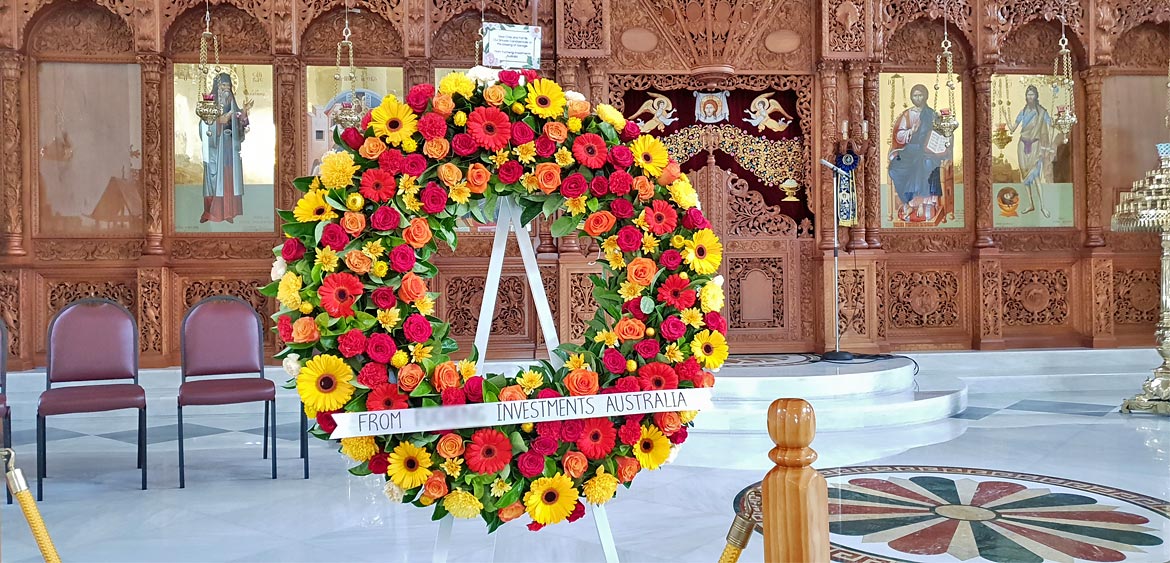 The Dormition Of Our Lady
272 Millers Rd, Altona North VIC 3025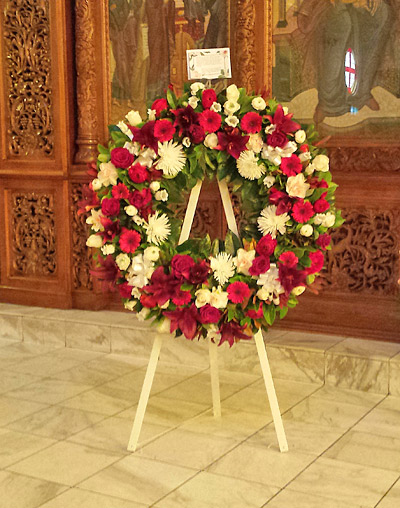 Greek Orthodox Parish Of The Presentation Of Our Lord
23-29 Victoria Street COBURG, VICTORIA 3058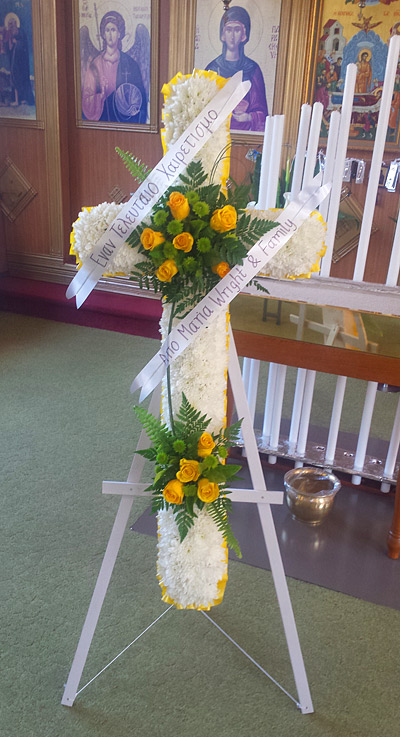 The Dormition of our Lady Orthodox Church
149 Charman Rd, Beaumaris VIC 3193
Flower Stands for Large Crosses
We are offering free stands for large and extra large crosses. Please see our
funeral crosses
for our current product range and offers.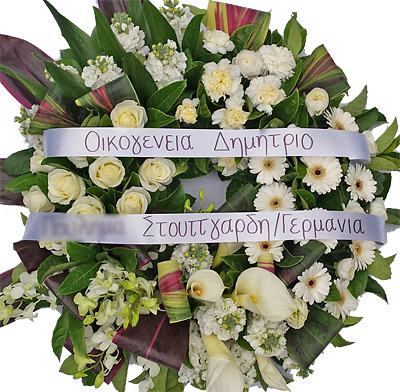 Traditional Greek Funerals
Traditionally, Greek funerals are always held at the church where the deceased frequented, so it is common to send flowers to the church. The most common style of funeral flowers delivered are the circular
wreaths
. It's customary to have the wreaths placed at the entrance of church, so the family can view as they enter. In some cases, if you ask for permission from the priest, you may have your flowers left on a stand at the altar or inside the entrance. Most priests are flexible and happy to do so, some are quite strict about slipping hazards and refuse to allow flowers inside, in the event they may leak water. If you have ordered a stand, we will always attempt to place it at the altar first. Our driver is of Greek origin so he has a good repore with most priests across Melbourne! If the priest refuses, we will place your stand at the front entrance of the church, still visible to everyone who enters the church.
Choosing Flowers for a Greek Funeral
The colour of your floral tribute should represent the gender of the deceased. So if a lady has passed away we would send, pink, purple, white, red or yellow themed wreaths. For gentlemen, we can send blue, white, yellow, orange & red toned wreaths. Sending a pink & purple wreath for the passing of a gentleman may be seen as offensive by the family, so please be sure to select the right colours. In some cases we have called customers to inform them that their choice of flowers was not suitable and recommended other colours, to which they thanked us.